Due to the elastic tension of the silicone, these covers are suitable for different shapes of furniture legs!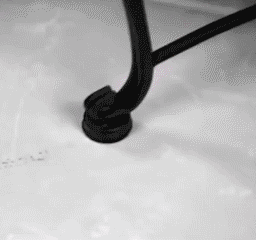 FEATURE PROPERTIES
FLOOR PROTECTION:

 Protects both the table legs and the floor of the chair from damage; The non-slip floor pad / felt pad prevents scratches and noises without leaving any marks. The flexible silicone 

box is easy to put on and gives the chair leg a firm grip like a glove.


NOT EASY TO FALL:

 This chair sliding foot cap tips are non-sticky, 

easy to wrap, and not easy to fall off

. The felt pads allow your chair/table to slide smoothly.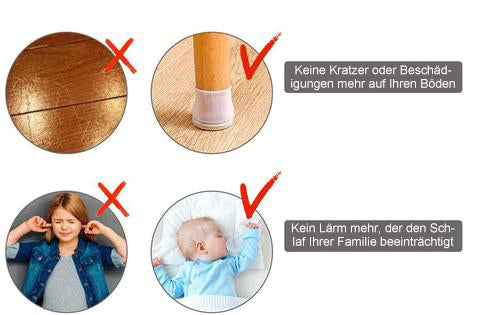 MATERIAL: Sturdy 

soft silicone, 100% non-toxic, safe for children and pets, 

suitable for many kinds of furniture Feet: dining room chair, bar stool, patio chair, kitchen chair, metal bistro chairs, desk chair, etc.




BEAUTIFUL DESIGN:

 Made of transparent silicone gel that blends into all kinds of home design. You will hardly notice it with the transparent design.
Stop Damaging Your Precious Hardwood Floor
Getting up with a treacherous scratching noise that sounds as if the chair is digging a trench into the expensive hardwood floor is certainly a nightmare. Take some preventive measures with the help of the Furniture Silicon Protection Cover!
This not only protects any surface from being damaged but also works as a noise buffer when moving your furniture across the floor. The cover has an anti-slip bottom and it's easy to slip on for a perfectly snug grip.
Highlights:
FLOOR & FURNITURE PROTECTION: It protects your tile, wood or vinyl flooring from scratches and at the same time keep your furniture from moving or sliding around
SCRATCH BUSTER: The bottom friction design allows a secure fit on furniture legs
NOISE REDUCTION: Reduces noise when moving the furniture around the house by allowing you to glide it smoothly
WIDELY USED: Fits many kinds of furniture feet no matter it is round or squared, such as a dining room chair, bar stool, patio chair, kitchen chair, metal bistro chairs, etc.
VERSATILE: Suitable for indoor, outdoor, personal or commercial use
SIMPLE INSTALLATION: This is easy to install because it stretches to fit most leg shapes
SUPERIOR QUALITY: Made of high-quality, durable, and non-toxic material that complements any space with refined elegance
Specifications:
Material: 100% Silicone
Colour: Transparent
Weight: 10g
Size: 4 x 3.2 x 3 (cm)