Say Goodbye to Dirty Paws! 

🐾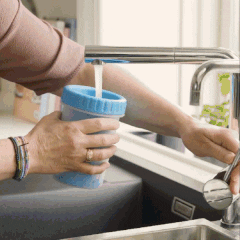 This PET PAW CLEANER™ just meets your need, is an efficient, easy, worry-free, and time-saving way to keep their paws clean.

  

Clean your dog's paws easier and faster than ever before.


  

Thoroughly removes all dirt, mud, germs, & bacteria, and sand from between the claws.

  

Completely safe and painless - Like a massage for your pup!

  

No detergents or chemicals are necessary. Saves water consumption.

  

A great way of melting ice and snow during the winter.
Keep your house and pooch VIRUS-free! 
Did you know that over 2 million people each year get sick from bacteria that was present on their dog's paws?
The unfortunate truth is, each day your dog walks through dirt, trash, urine and even feces and then, they track all of these dangerous germs right back into your home or car, around your family and even into your bed! YUCK! 
 How to Use:
Fill up the Paw Cleaner with clean water.
Put your dog's paw in through the opening, and down until it fits properly.
Carefully rotate Paw Cleaner, and then try rotating it the opposite way for extra effect.
After a thorough session, carefully pull your dog's leg out of the Paw Cleaner
Dry your dog's paw with a towel, and empty the dirty water out of the Paw Cleaner.
A simple solution with massive benefits and once you try this once, you'll never look at the garden hose the same way again.
Specification:

Material: Silicone
Color: Green, Orange, Light Blue
Size: S, M, L
Package Includes: 1X Pet Paw Cleaner™
3 sizes available:
Small - opening diameter: 2.16" or 5.5 cm - designed for puppies, toy breeds, and petite dogs. (up to 8 kg)
Medium - opening diameter: 2.48" or 6.3 cm - specially sized for medium-sized breeds. (8-25kg)
Large - opening diameter: 2.9" of7.3 cm - specially sized for large-sized breeds. (25-50 kg)
These are literally the best items you'll find on the internet, everything we sell is something that we use ourselves in our daily lives. Enjoy and browse our wide range of amazing products.