【MECHANICAL STRETCH AND FADE RESISTANCE】
The women's hiking pants are made of T400 two-way stretch material, which is tough and flexible to ensure superior mobility and comfort. High color fastness of the cargo pants for women for lightfastness. Teflon coating resists stains, dirt and moisture.
【DEVELOPED WITH A FEMALE LOOK】
These work trousers for women are tailored to the female form, functional but fashionable. Perfect for casual use, professional use such as law enforcement, military, police, carpenter, security, gardening, paramedic and so on, hiking, hunting and more. You can even wear them when you work around the house.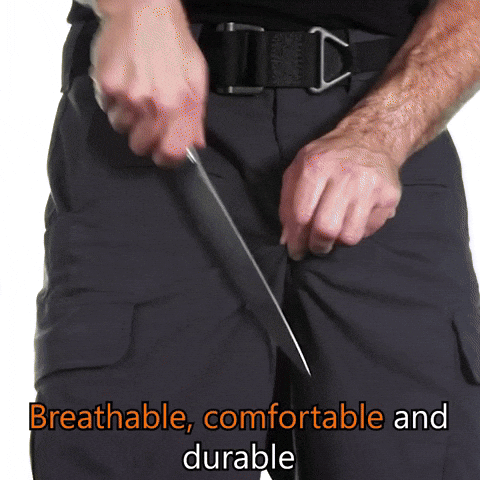 Your PANTS CAN BE MORE THAN JUST CLOTHING. They can be a TOOL to rely on for your adventure. It's so useful that it will maximize your skills and effectiveness.



The Marines rely on the same IX7 DESIGNED PANTS every day to help them perform at their best. They are comfortable, breathable and completely waterproof. Perfect for TREKKING, HIKING, CLIMBING or just for comfortable daily carrying that you can rely on for years.

Are back and better than ever. They offer a lot of storage space in the bag and are completely waterproof. They're great for walking, hiking, and moving around - but stylish enough to wear every day. They offer an impressive range of design additions.
MAIN FEATURES
  RUGGED DURABILITY -

 Crafted with a blend of linen, these tactical pants for men feature enhanced stitching for outdoor resilience

  CLIMATE RESILIENT - Whether you are going hunting, hiking, trail riding, or planning a SWAT assault, these men pants can withstand a variety of climates
  LOW-PROFILE POCKETS -

 

Keep clips, first aid, or tactical equipment accessible with multi pockets located.
  CLIMATE RESILIENT

 

- Whether you're hunting, hiking, horseback riding, or planning a SWAT attack, these women's trousers can withstand a wide variety of climates.
  LIGHTWEIGHT POCKET

 

- Keep clips, ammunition, first aid or tactical gear accessible with 10 carrying pockets on the front, back and thighs.